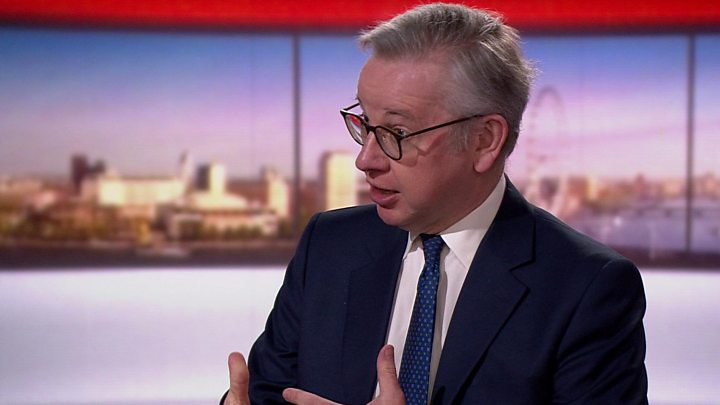 Michael Gove has insisted England's schools are safe to reopen, but acknowledged that "you can never eliminate risk".
Mr Gove told the BBC's Andrew Marr Show the key was to make schools safe with smaller classes and staggered arrivals.
The government has set out plans to begin a phased reopening of primary schools in England from next month.
Labour's Angela Rayner urged the government to publish the scientific advice guiding those plans for 1 June.
She said that if the government could ensure that tracking and tracing were properly in place, that would "reassure parents".
Teaching unions, backed by the British Medical Association, have raised concerns about safety.
Speaking to Andrew Marr, Mr Gove could not guarantee that teachers and pupils would not catch coronavirus.
But the former education secretary said the UK can "learn" from children returning to schools in other European countries, such as Denmark.
"The only way ever to ensure that you never catch coronavirus is to stay at home completely. But there is always, always, always, in any loosening of these restrictions, a risk of people catching the coronavirus," the Cabinet Office minister said.
"You can never eliminate risk," he said. "It is the case that it is extremely unlikely that any school is likely to be the source of a Covid outbreak."
There is a great deal of clinical evidence that shows children tend not to become severely ill from Covid-19.
This week the Office for National Statistics published the first results of a survey of coronavirus tests on a representative sample of the population in England.
It found that the proportion of people under the age of 20 to have become infected with the virus was roughly the same as the rest of the population.
The critical question, therefore, is how likely are children and young adults to spread it? So far scientists simply don't know.
The very early data from countries which have opened schools to a degree indicate that they have not become infection hotspots – but it's early days and the data is currently too scant to give definitive reassurances that children do not pass on the virus.
Under government plans, children in Reception, Year 1 and Year 6 in England will return to school on 1 June.
Education Secretary Gavin Williamson said on Saturday that the government's approach was based on the "best scientific advice, with children at the very heart of everything we do".
Shadow education secretary Angela Rayner told Andrew Marr: "I urge the government to publish the science and to ensure testing and tracing is in place to safeguard.
"Councils want to make sure their citizens are safe. I support them in trying to do that."
Some local authorities in the north of England have challenged the government's timetable, with Liverpool and Hartlepool councils saying schools will not reopen at the start of next month as coronavirus cases continue to rise locally.
Greater Manchester mayor Andy Burnham said there had been a lack of consultation with regions about schools reopening and urged the government to work with local authorities, telling BBC Breakfast: "There are different issues in different places."
Responding to concerns raised by local authorities, Mr Gove said: "If you really care about children, you will want them to be in school, you will want them to be learning, you will want them to have new opportunities, so… look to your responsibilities."
What do teachers and parents think?
Teachers and parents are have warned that there will be "no chance" of maintaining a social distance in the classroom when schools return.
Moyna Edmondson, a head teacher for an independent nursery school in Kent, has 35 children aged three and four who attend her school. She said staff will be exposed to, potentially, about 70 parents.
"It makes a total mockery of the seven weeks I have spent keeping myself and my family isolated and safe. There will just be no chance of social distancing," she said.
However, Zenam, a teacher at a private nursery in Birmingham, is in favour of schools reopening – as long as class sizes are limited and areas disinfected.
"Children are missing out on their education," she said.
Similarly, Wieslaw Kwit, from London, is eager for his seven-year-old son to return to the classroom. He said schools should reopen "immediately" otherwise children "will have huge gaps in education".
But Valerie Brooker, from Surrey, is worried about sending her two daughters, aged 10 and 15 – both of whom have underlying health conditions – back to school.
"I think sending our children back to school at time is absurd," she said. "We are just reopening schools way too soon."
World Health Organisation (WHO) chief scientist Dr Soumya Swaminathan told Andrew Marr that children are "less capable" of spreading the virus, and are at "very low risk" of getting ill from the disease.
"What we have seen in countries where schools have remained open is that there have not been big outbreaks in schools," Dr Swaminathan said.
She added that most outbreaks have been associated with events "where a lot of people gather, not in regular classrooms".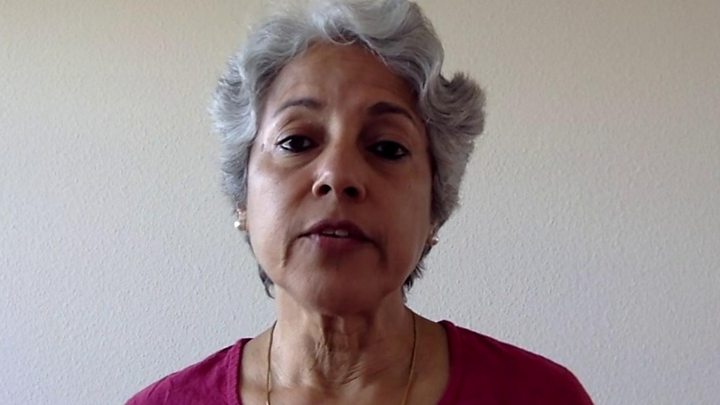 Meanwhile, schools in Wales will not reopen on 1 June, while those in Scotland and Northern Ireland may not restart before the summer holidays.
In other developments:
Source: Read Full Article