The government has repeatedly been challenged to present the scientific evidence behind the decision to introduce 10pm mandatory closing time for pubs, bars and restaurants in England.
Labour leader Sir Keir Starmer asked the prime minister: "Is there a scientific basis for the 10pm rule?"
The prime minister did not offer any evidence but said it was to "reduce the spread of the virus".
Why was the 10pm rule introduced?
Early closing for pubs, bars and restaurants was brought in following a spike in cases across England.
Other measures include mandatory table service and the use of face masks whenever a customer is not at their table. Owners can be fined up to £10,000 for failing to implement rules.
Indoor venues, including bars and restaurants, have long been considered particularly vulnerable to the spreading of the virus.
"Wherever you get people crowded together, for example concert halls, cruise ships, house parties, bars and pubs, you risk spreading a virus," says Dr Julian Tang, a professor in respiratory sciences at the University of Leicester.
UK coronavirus cases up by 17,540 on Thursday
How have the rules on meeting friends changed?
New rules at-a-glance: More face coverings and fines
If people are sitting near each other talking without face masks or coverings, it can maximise the amount of spit droplets that are transferred between people, he says.
His research also highlights the potential risk if the virus is projected into the air whilst breathing and talking, where it stays suspended and may then be inhaled by others.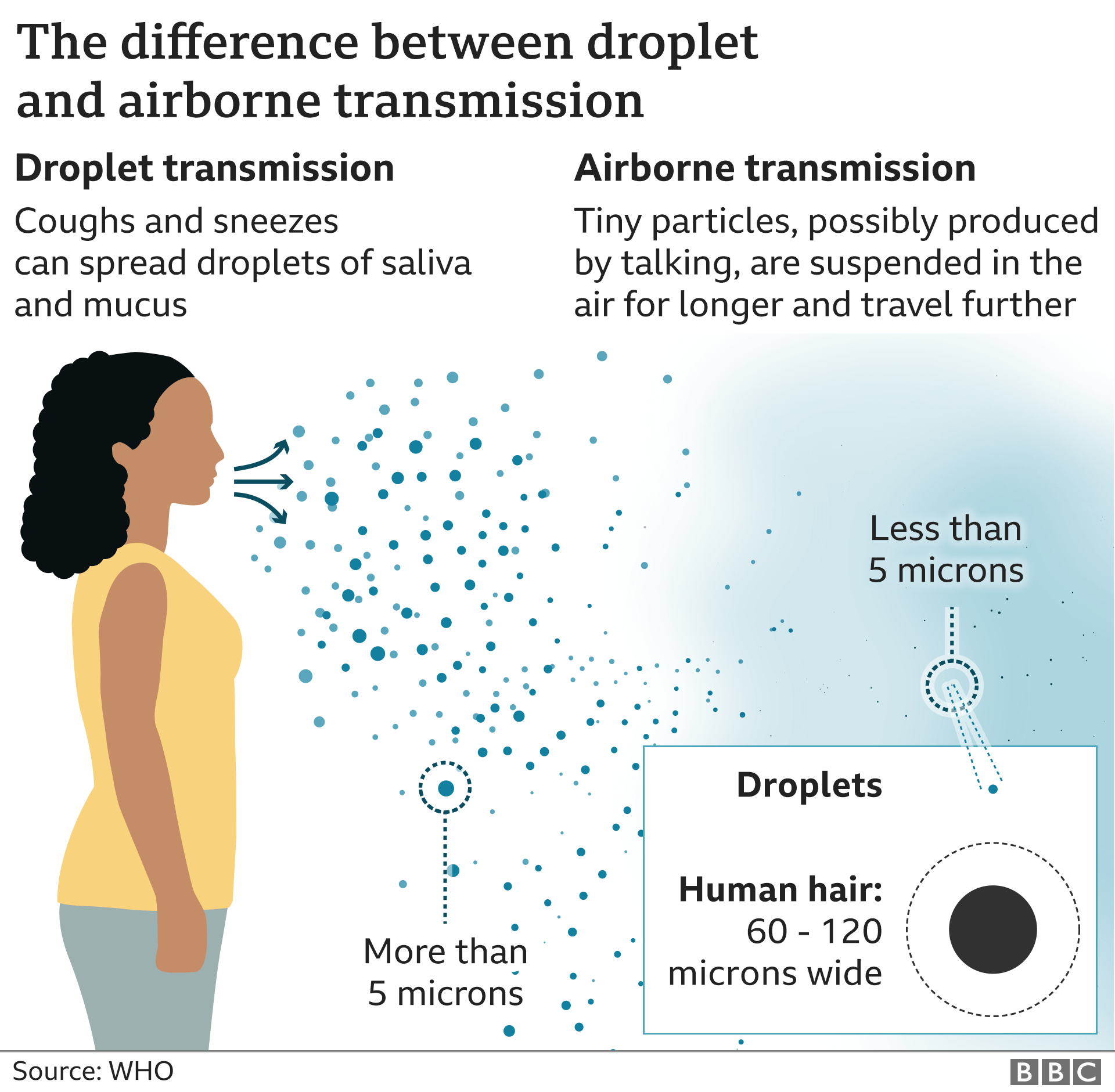 The World Health Organization has acknowledged that there is emerging evidence that coronavirus can be spread by tiny particles staying in the air and "more studies are urgently needed."
Evidence from the Scientific Advisory Group for Emergencies (Sage), which reports to the government, highlighted venues serving alcohol as a significant risk.
"Smaller gatherings such as bars and nightclubs are higher risk as you can be in closer contact with others," a report from the 11 February warned.
The new measures are aimed at further reducing the overall period of time that people spend in close contact with each other in pubs and restaurants.
Is there any science behind a 10pm closing time?
A Sage report from September said "Curfews [are] likely to have a marginal impact", although it said it only had "low confidence" in that conclusion, suggesting there has been limited research into the question.
Speaking on the Andrew Marr Show, the University of Edinburgh's Prof Mark Woolhouse, a member of the government's infection modelling team, said "there isn't a proven scientific basis for any of this".
However, he said this also applied to the nationwide lockdown which occurred from 23 March onwards.
We asked the Department for Health and Social Care (DHSC) if there was any specific scientific advice about the cut-off time for pubs, bars and restaurants.
It did not provide it but said: "The 10pm closure allows people to continue to socialise while reducing the risk of failing to socially distance."
Is the virus being spread in pubs and restaurants?
At this point, we have some data but it does not tell the full story.
Public Health England (PHE) releases figures on outbreaks of coronavirus by the type of institution.
A total of 3,154 Covid-19 outbreaks were recorded between 3 August and 4 October, including:
171 outbreaks (5.4%) in restaurants or food outlets
835 outbreaks (26.4%) in educational facilities
933 outbreaks (29.6%) in care homes
661 outbreaks (21.0%) in workplaces
But this data requires two or more cases to be tracked down to the location via PHE's Health Protection Teams.
This means these people must get tested, report accurately where they had been to the government's Track and Trace programme, and for an investigation to conclude that these places had been the source of outbreaks.
This might be easier to do with closely monitored or prioritised places like schools, hospitals and care homes.
The Test and Trace system attempts to find out the places people visited in the week prior to showing coronavirus symptoms.
Of the 87,128 events people said they had attended in which there was some contact with others between 10 August and 24 September:
12,734 were eating out
11,700 shopping trips
about 6,000 holiday trips
just under 5,000 school visits
This data only highlights where people went prior to getting the virus but this may not be where they actually caught it.
Public Health England does say it is helpful in indicating "possible places where transmission is happening".
THE R NUMBER: What it means and why it matters
SOCIAL DISTANCING: What are the rules now?
LOOK-UP TOOL: How many cases in your area?
SOCIAL LIFE: Is it safe to go to the pub?
Other Track and Trace data highlights the contacts people recorded since developing symptoms.
Perhaps unsurprisingly, by far the largest group of contacts people met were members of their own household.
But once again, this doesn't show who (and where) the virus is spreading from, just the people they have have come into contact with.
This piece was updated to reflect the latest data from PHE's National flu and Covid-19 surveillance report. But, NHS Test and Trace data only goes up to 24 September.
Additional research by Tamara Kovacevic, Nicholas Barrett and Anthony Reuben
Read more from Reality Check
Send us your questions
Follow us on Twitter
Reality Check
Coronavirus lockdown measures
Coronavirus pandemic
Source: Read Full Article